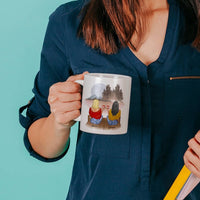 Unique gifts for unique people
Put a smile on your loved one's face with your unique mug. Personalize friends, family, partners or your pets and make every coffee or tea a memory. Choose your favorites from countless outfits and over 100 hairstyles. There's room for up to 4 people on your mug.
Choose design
Your satisfaction is our mission
We at Uniheart are there for you as a team and help you to bring joy to your loved ones! With the best quality and fast & reliable delivery times from Germany, we are your perfect partner for a loving gift of a special kind.
Personalize now